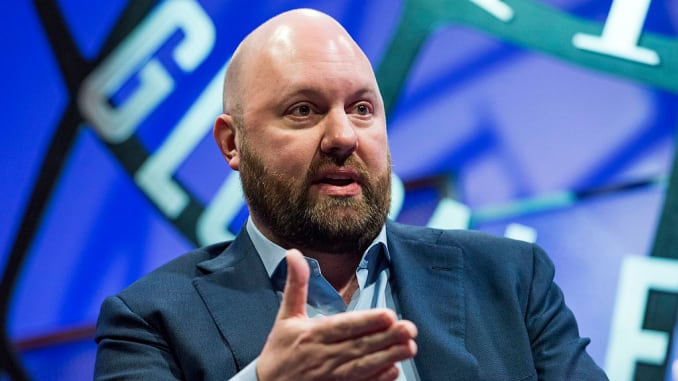 Read Time:
2 Minute, 45 Second
Venture Capital firm Andreessen Horowitz (also known as 'a16z') has announced that it will be conducting a seven-week educational program simply entitled the cryptocurrency 'start-up school'.
This news was first broken by general partner and co-head of a16z, Chris Dixon at the 'TechCrunch Disrupt' event back in October, and was subsequently confirmed via a blog post on the company website.
Start-up school is a course attended in-person. It will be completely free to participate in, and takes place February 21st – April 3rd at the a16z headquarters in Menlo Park, California.
All that the company asks of applicants is to bring an enthusiasm for cryptocurrency, and that they possess "experience building software products".
"Our general view is if we build goodwill [through free programs such as the 'start-up school'], people will want to come to work with us — so it's in that spirit…If they do go start a company, we hope we'll be one of their first phone calls but there's no requirement for that."Chris Dixon, speaking to CNBC
Don't worry if you can't make it though, because video materials as well as learning resources are promised as online uploads, accessible after school has concluded.
Whilst a handful of topics you can expect to be covered at the event are provided on the website, as well as 19 mentors, it explicitly notes that the "final curriculum with instructors and speakers [are] to be announced soon".
"If you are as excited about crypto as we are, and have experience building software products, we invite you to apply.You will hear from leading technologists and investors in the field, and learn the fundamentals of building a crypto startup."Announcement
Andreessen Horowitz' 'start-up school' is not the firm's first foray into the world of cryptocurrency, and it almost certainly won't be the last. 'a16z Crypto' is the name of the fund behind the school program: it's worth $350 million and was established back in June 2018. a16z is also a founding (and remaining) member of the Facebook-led Libra project.
Earlier this month, the VC firm led a $5 million investment round into a decentralized blockchain protocol called Arweave which promises "true information permanence, with sustainable economics, for the first time". Other participants in this round included Multicoin Capital and Union Square Ventures.
a16z Crypto: Start-up SchoolCourse Outline
What are Crypto Networks, and Why Do They Matter?Blockchain Computing Primitives: Cryptography and ConsensusOverview of Application Development Tools Applications: Today and 2025Crypto Business Models Cryptoeconomics UX, Product Development and SecurityGo-to-market Strategy and Developer RelationsCommunity Participation and GovernanceRegulatory Landscape and ConsiderationsGuide to FundraisingMentors
Soona Amhaz: Cofounder & Partner, Token Daily CapitalMorgan Beller: Head of Strategy, CalibraJill Carlson: Investor, Slow Ventures; Cofounder, Open Money InitiativeAvichal Garg: Managing Partner & Cofounder, Electric CapitalDani Grant: Analyst, Union Square VenturesJacob Horne: Product & Venture, CoinbaseMichael Jordan: Investments, Galaxy DigitalSpencer Noon: Investments, DTC CapitalNiraj Pant: Partner, Polychain CapitalAlex Pruden: Deal Partner, Andreessen HorowitzHaseeb Qureshi: Managing Partner, Dragonfly CapitalDan Robinson: Research Partner, ParadigmArianna Simpson: Founder & Managing Director, Autonomous PartnersKartik Talwar: Investments, SV AngelNick Tomaino: Founder and General Partner, 1confirmationAlok Vasudev: Cofounder, Standard CryptoJesse Walden: Program Manager, as16z Crypto Startup SchoolLinda Xie: Cofounder and Managing Director, Scalar CapitalAli Yahya: Deal Partner, Andreessen Horowitz