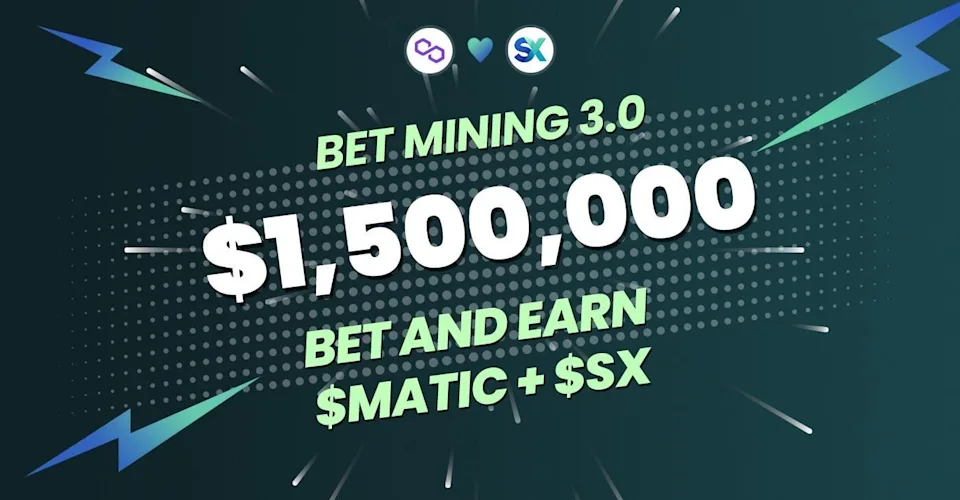 Read Time:
4 Minute, 41 Second
SportX – growing at 1,600% in 2021 – deepens partnership with Polygon to drive the Ethereum scalability and transaction speed necessary to achieve its ambitions.
DUBAI, UAE / ACCESSWIRE / November 12, 2021 /Polygon, an Ethereum scaling platform onboarding millions to the Web3, today announces it has contributed $500,000 to incentivize further volume building on SportX, part of the SX Network and the largest prediction market dapp by betting volume across all chains.
In addition to the $500,000 in $MATIC from Polygon, SX Network is putting in $1M of staked $SX to its Bet Mining 3.0 campaign, taking the total incentivization pot to $1.5M. Every week, SX Network will be paying out $125,000 in rewards on top of regular bet winnings to users of the protocol. Rewards will be paid out on Monday's based on the previous seven days betting volume.
Sandeep Nailwal, the Co-Founder of Polygon, says: "SportX is one of the fastest growing platforms in blockchain, and we are happy to be working together. We provide the Ethereum scalability and transaction speed necessary for platforms like SportX to achieve their ambitions."
To participate in what SportX describes as "the best betting incentive campaign ever, period", bettors go to SportX.bet, connect their Metamasks or create an email wallet while connected to the Polygon Network and bet on sports, e-sports, or crypto prices using ETH or USDC on SportX. Other than excluding wash bets1, there are no other requirements or stipulations.
SportX is the fastest growing crypto prediction market, on track to grow annual betting volume and revenue by more than 1,600% in 2021. It is a regulated web application that hosts more than 500 prediction markets daily and has facilitated more than $76M in bets.
SX Network will be the first public blockchain to combine a smart contract platform with an on-chain community treasury and a native prediction market protocol. SportX is one of three layers comprising the SX Network, alongside the SX Protocol and SX Blockchain. SX protocol is a smart contract protocol that facilitates all prediction betting markets and enables the SX token and SX Treasury. SX blockchain, in final development, is a highly scalable EVM-compatible PoS blockchain, built using the Polygon SDK.
Andrew Young, Project Lead at SportX, says: "This is a whale among incentive schemes and will turbo-charge user volume on SportX. It's really hard to build blockchain prediction markets. They have low transaction sizes and are more prone to rapid rises in transaction fees. The irreversibility of blockchains also makes it difficult to easily integrate traditional data feeds and there are numerous other challenges, such as latency. SportX has overcome all these technical issues to create a Sports prediction platform that is out on its own. As well as building scale with this incentive program, we want to highlight the groundbreaking nature of the SX Network Blockchain we are building with the Polygon Team. In 2022 this Polygon "sister chain" will launch and become the permanent home to SportX and many of Polygon's newest Dapps."
"Our vision is much wider than sports betting, however. Blockchain governance is the biggest unsolved problem in the entire crypto space. Prediction markets can solve this; instead of voting on decisions, people bet on them – this is commonly called futarchy. SX Network is going to be the first blockchain to implement futarchy and use prediction markets to solve the governance problem."
Kevin O'Leary, the outspoken venture capitalist best known as Shark Tank's Mr. Wonderful, is an investor in both SportX and Polygon. He commented: "I love prediction markets, I love blockchain, and SportX is a fantastic company doing great things in both. It's great to see so many great ideas being built on highly scalable, modern blockchains like Polygon. I'm bullish on SportX, bullish on Polygon, and bullish on the future!".
Polygon is the fastest growing blockchain with high speed and low gas infrastructure. DeFi bluechip Dapps including Sushiswap, Curve, Aave, Balancer, Kyber all integrated Polygon. This leading Ethereum scaling platform works in parallel with the Ethereum network to improve functionality and promote infrastructure development. Polygon achieves this via its array of scaling solutions, including Polygon PoS, Polygon SDK, Polygon Avail, Polygon Nightfall, and Polygon Hermez.
Notes for editors
1 SportX has implemented strict betting analysis tools to not count wash trading bets as eligible for Bet Mining 3.0 rewards. Accounts deemed to be wash trading will not receive rewards.
For more information, please contact:
Jon Reader
Cryptoland PR | http://cryptolandpr.com/
About Polygon
Polygon is the leading platform for Ethereum scaling and infrastructure development. Its growing suite of products offers developers easy access to all major scaling and infrastructure solutions: L2 solutions (ZK Rollups and Optimistic Rollups), sidechains, hybrid solutions, stand-alone and enterprise chains, data availability solutions, and more. Polygon's scaling solutions have seen widespread adoption with 3000+ applications hosted, ~600M total transactions processed, ~60M unique user addresses, and $5B+ in assets secured.
If you're an Ethereum Developer, you're already a Polygon developer! Leverage Polygon's fast and secure txns for your Dapp, get started here.
Website | Twitter | Ecosystem Twitter| Developer Twitter | Studios Twitter | Telegram|Reddit | Discord | Instagram | Facebook | LinkedIn
About SX Network
SX Network will be the first public blockchain to combine a smart contract platform with an on-chain community treasury and a native prediction market protocol. SX Network is a stand-alone smart contract blockchain being built on the Polygon SDK. It is designed from the ground up for blockchain application developers with EVM-compatibility, low-cost transactions, and a PoS-based consensus model.
Website |Twitter |Reddit |Discord |SportX